New York training camp was very helpful for me, says Dalibor
Published: 16/07/2015
After four competitions last autumn was Dalibor forced to pause because he underwent surgery of abdominal hernia. In the spring he returned to the training process and in June he attended a training camp in New York Powerhouse Gym of Bev Francis lead by an experienced coach and nutrition expert George Farah. As in 2014, also this year will be home EVLS Prague Pro his first competition of the season. It will take place on the first weekend in October in the Tipsport Arena Prague.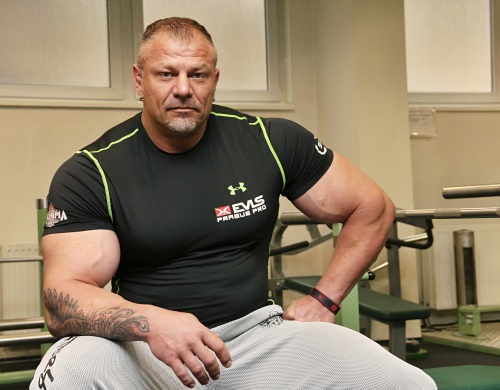 How did December hernia surgery impacted your preparation for the competitions in 2015?
This operation was planned so it took place after the season. I went to the operation room the day before Christmas. Therefore the recovery came in the time when I would be resting anyway. But I must say that I have never had so long break without training, I couldn't do anything for two and a half months! Until then, I did not work out maybe fourteen days in the row.
During that time, you couldn't do anything at all?
I just lay in the bed, I had a problem even with getting up or coughing. You don't realize that you are clenching abdomenal muscles practically during every litttle move. It was quite demanding mentally, but in the end it turned out to be quite positive because my body rested. Both from training and from diet. I had my diet planned, but when you don't train, you don't need to eat too much.
When di you return to the training process?
During January and February I had convalescence, I returned back to the training in the second half of March. And the start was quite difficult, but I got used to it. It went slowly.
In early June, you had ten-day training camp in New York under the leadership of coach and nutrition expert George Farah. How long are you collaborating with him?
George and I have already worked together in the last season. He supervised me at the training camp in Powerhouse Gym. An I must say it was very positive and helpful for me. I thought that in my work out there is nothing to change or improve, but George showed me that there are methods that can move me a little bit further.
So now you have from the George both diet and workout plan?
I have diet from him for the long time. In addition since the camp I continue in the training methods he showed me and I think it is moved me forward. My body hurts the next day an I can see that I've made progress. And last but not least, I enjoy it and it was a new impulse for me.
You met some well known colleagues from the Open category during the camp...
It is true. (Smile) I had my first workout with Big Ramy, then I had several sessions with Kai Greene. But I don't speak English very well yet, so I couldn't chat with them the way I wanted.
Will you start new season 2015 with October EVLS Prague Pro like last year?
I will start with EVLS Prague Pro again. And then we will see, I would like to collect some points. Last year after EVLS I competed at China Pro, Russia's St. Petersburg Pro and finally at the Ferrigno Cup in Santa Barbara. This year I would like to handle similar amount of competitions. And maybe more.
You already know EVLS Prague Pro from previous years. What are your goals this year?
I will attend Prague Pro for the third time. But I am realistic, I don't expect any points here. The competition will be very high, there will be TOP 10 from Olympia. But I love to compete in front of my home crowd. Support of the fans is always great here.